Located in Mesa (approximately 20 miles east of Phoenix Sky Harbor Airport). A Pete Dye masterpiece, Red Mountain Ranch Country Club's breathtaking 18-hole championship course is a 6,797 yard, par 72 layout featuring severe mounding reinforced with railroad ties, steeply contoured greens, and deep bunkers.
The challenging layout combined with the desert surroundings of stately saguaros, mesquite trees, and spectacular rock formations captivates players from beginning to end.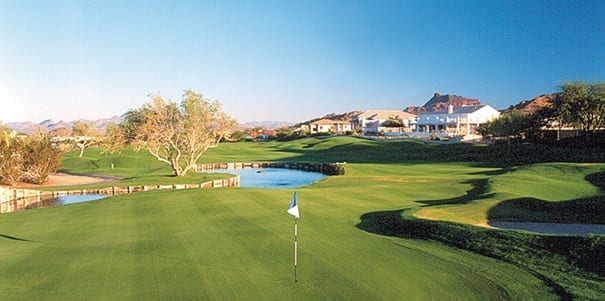 Golf School
Our traditional schools range from 2 to 5 days in length. Each day consists of approximately 5 hours of golf instruction, lunch at the golf course, plus your tee time and cart to play golf after instruction. We teach all skill levels, and there are never more than 4 students per instructor. Approximately half of every traditional golf school covers full swing (drivers and irons), and the other half focuses on short game skills covering putting, pitching, chipping, and bunker play.
LIMITED SPOTS REMAINING - CALL (800) 472-5007
Golf School Schedule
YEAR-ROUND
2-Day Schools every Thu-Fri and Sat-Sun
3-Day Schools every Mon-Wed
5-Day Schools every Mon-Fri

This location is for commuters only (no hotel packages).
THIS LOCATION ALSO OFFERS
Short Game Schools … focus on short game skills including pitching, bunker play, chipping, and putting. 4 hours of instruction each day. Lunch and tee time not included.
Short Game schools are not available during peak season and can only be scheduled between May 1 – Dec 31 (subject to instructor availability).
Call (800) 472-5007 or email info@JacobsGolf.com
for Short Game pricing, availability, and details.
| | | | |
| --- | --- | --- | --- |
| PROGRAM | DATES | COMMUTER | HOTEL |
| 2-DAY | NOV 02, 2023 - JUN 02, 2024 | $795 | N/A |
| 3-DAY | OCT 30, 2023 - MAY 29, 2024 | $1,095 | N/A |
| 5-DAY | OCT 30, 2023 - MAY 31, 2024 | $1,595 | N/A |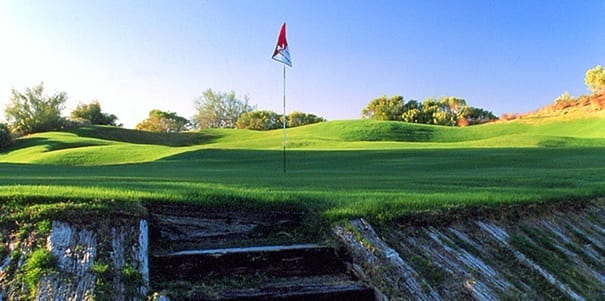 Golf Academy
The John Jacobs' Golf Academy offers private, group, and playing lessons scheduled at your convenience (subject to instructor availability). Our teaching pros provide customized instruction tailored to your specific needs. Private and group lessons are available in 1/2-hour increments (up to 4 hours) and can be scheduled as an individual session or as a series of multiple sessions. On-course playing lessons are also available for experienced golfers with low handicaps. V-1 video analysis of your golf swing is included with all lessons. Juniors (17 yrs and under) receive a 20% discount off private lessons.
Please call (800) 472-5007 for details or to schedule your lesson today!
Academy Rates
| | | |
| --- | --- | --- |
| PRIVATE LESSONS | 1 STUDENT | 2 STUDENTS |
| 1/2 Hour | $75 | $115 |
| 1 Hour | $125 | $190 |
| 2 Hours | $220 | $330 |
| 4 Hours | $400 | $600 |
| LESSON SERIES | 1 STUDENT | 2 STUDENTS |
| 4 x 1/2 Hour | $260 | $400 |
| 4 x 1 Hour | $460 | $660 |
| 6 x 1 Hour | $600 | $900 |
| 12 x 1 Hour | $1,080 | $1,560 |
| PLAYING LESSONS | 1 STUDENT | 2 STUDENTS |
| 9-Hole | $350 | $450 |
| 18-Hole | $450 | $550 |